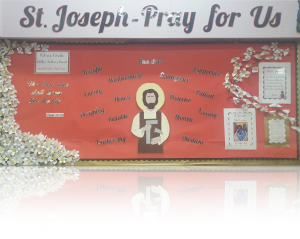 With the Apostolic Letter "Patris corde" ("With a Father's Heart"), Pope Francis recalled the 150th anniversary of the declaration of Saint Joseph as Patron of the Universal Church.  To mark the occasion, the Holy Father proclaimed a "Year of Saint Joseph" from 8 December 2020, to 8 December 2021.
Pope Francis describes Saint Joseph as a beloved father, a tender and loving father, an obedient father, an accepting father; a father who is creatively courageous, a working father, a father in the shadows.
The Holy Father wrote Patris corde against the backdrop of the Covid-19 pandemic, which, he says, has helped us see more clearly the importance of "ordinary" people who, though far from the limelight, exercise patience and offer hope every day. In this, they resemble Saint Joseph, "the man who goes unnoticed, a daily, discreet and hidden presence," who nonetheless played "an incomparable role in the history of salvation."
At SMC we have incorporated St Joseph into our day to day school life.  We launched the Year of St Joseph with a whole school assembly to introduce our children to this wonderful saint; we encouraged the children to draw similarities between their own 'ordinary' lives and the life of St Joseph.  We discussed that it was our aim to be like St Joseph in all that we do and use him as our role model throughout the year.
A central display is present in our school hall as a constant reminder of the importance of St Joseph, in addition to this, each classroom has dedicated part of their prayer space to the Year of St Joseph.  All classrooms display an image of St Joseph, a simple prayer, a statue of the sleeping St Joseph and a handful of white lilies to remind us of his purity.
As St Joseph had many sides to him, he was depicted in many ways and had many responsibilities, we have had a monthly focus to highlight to our children the variety of roles St Joseph undertook.  Each monthly focus is detailed below:
St Joseph Monthly Focus

Month

Vocation

March

St Joseph: Inspiration for families-Head of the Holy Family

April

St Joseph the protector

May

St Joseph the worker

June

St Joseph: Patron Saint of Fathers

July

St Joseph: Patron Saint of Travellers

September
St Joseph the Inspirer of Courage
October
St Joseph the Husband
November
St Joseph the Patron Saint of the Universal Church
December
St Joseph the Patron Saint of Migrants
In each instance, we have shared the role of St Joseph with our children and, where appropriate, we have awarded weekly certificates to the children who have demonstrated attributes of St Joseph through their words and actions.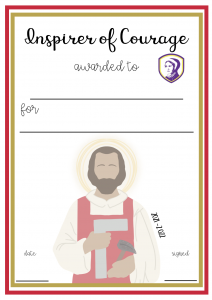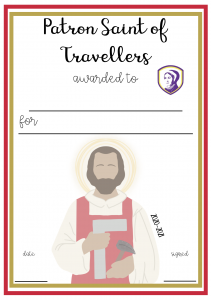 To end the Year of St Joseph, all staff and children will receive a St Joseph medal as a keepsake and constant reminder of the courageous, loving, humble, hard working man he was. We pray we will continue to look for ways to be more like St Joseph in our own lives and ask him to watch over us always.
At the conclusion of his Letter, Pope Francis added a prayer to St Joseph, which he encourages all of us to pray together:
Hail, Guardian of the Redeemer,
Spouse of the Blessed Virgin Mary.
To you God entrusted his only Son;
in you Mary placed her trust;
with you Christ became man.
Blessed Joseph, to us too,
show yourself a father
and guide us in the path of life.
Obtain for us grace, mercy, and courage,
and defend us from every evil.  Amen.