Please see our British Values Policy in the policies section – HERE.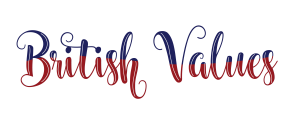 At St Margaret Clitherow's Catholic Primary School, we live by our school motto, 'Jesus is at the heart of everything we do'. We believe that by living according to the teachings of Christ, we are also living out and promoting British Values, which we understand to be:
Democracy
Individual Liberty
Rule of Law
Mutual Respect and Tolerance of Others
We endeavour to provide a rich curriculum and learning opportunities to enable all pupils to better understand and live according to the values of our nation and, therefore, contribute to our society and the world community as a whole. We aim to prepare learners for life in Britain by equipping our children to be responsible, respectful, active citizens who contribute positively to society. Moreover, in our caring, Christian community, we seek to nurture the spiritual and moral self in every individual, so that they can fulfil their true potential, valuing themselves and others, in all they do. Through prayer, school rules, worship, work, and play, we build upon our welcoming Christian ethos, promoting a culture of respect and love for people, from all backgrounds. Most importantly, we want our children to be proud of who they are and where they have come from, we want them to love their country and know that they are part of a bigger picture.
How do we ensure each value is embedded for our children?
At SMC we look at each value in depth on a half termly basis, to give children a deeper understanding of what the value is, how they can recognise it in others and what they can do to live it out in their own lives.  Each week we share a theme linked to the value we are focusing on, we also link this to scripture so it is truly embedded in our social, moral and spiritual lives.  We actively seek out those children through the week who are living out the theme and they are held up as the 'Citizens of the Week' as shining examples to others and receive a certificate as recognition for their hard work to be the best citizen they can be.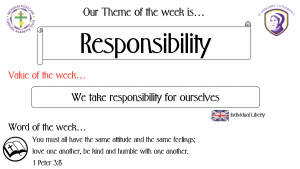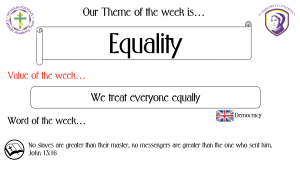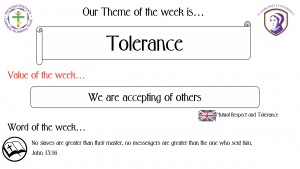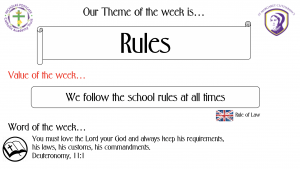 How do we teach each value in school?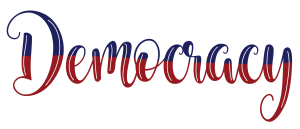 ''Democracy cannot succeed unless those who express their choice are prepared to choose wisely.  The real safeguard of democracy, therefore, is education.'  
At SMC we aim to show democracy in action whenever possible.  We have developed a weekly vote that all children take part in to support their understanding.  The 'British Values Theme of the Week' is introduced at the beginning of the week to all children.  They then look to live that out in school and at home.  At the end of the week, each class takes part in a democratic vote where each child votes for the child in their class that they have witnessed actioning the theme.  The votes are counted and the 'Citizen of the Week' is celebrated.  This weekly democratic vote brings democracy to life for all children.  They understand the importance of their voice being heard and can see how their opinions and thoughts shape collective decisions.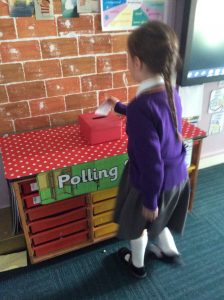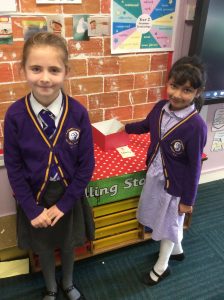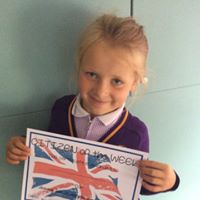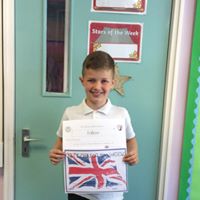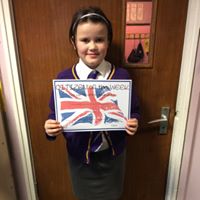 'Individual Liberty is individual power.' 
We ensure our children understand that Individual Liberty is their freedom to do what they want to do as long as they do not hurt anyone else with their decision making.  Children at SMC understand that they are able to make decisions for themselves but that decision comes with responsibility, as they must consider the impact this has on those around them.  We provide opportunities for our children to exercise their individual liberty and discuss openly with them the impact of the decisions they make.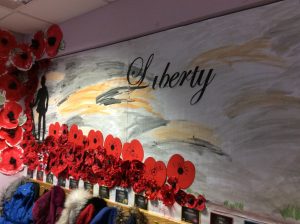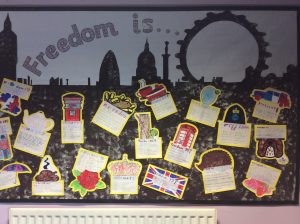 One of the main ways we explore this value with the children is by focusing on Remembrance Day. We explain to them the only reason we have the freedom in our country that we do, is because others have fought for it for us.  Some of the work we have produced linked to Remembrance Day has been phenomenal and the children get a real sense of the importance of using their freedom and decision making effectively because it has come at a cost for others.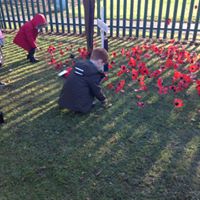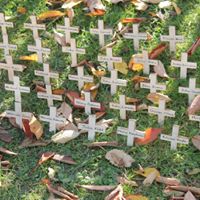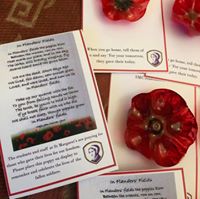 'Freedom prospers when religion is vibrant, and the rule of law under God is acknowledge.'
At SMC we instil in our children that we need rules in order to keep us safe and happy.  They understand that rules in school are in place to look after us all and allow us to be the best we can be.  Our school rules are embedded in our routine and recited daily.  They are also fed into our behaviour policy and referred to when consequences for behaviour are issued.
With a deepened understanding of rules in school and why they are needed, our children are then able to transfer this understanding to home life and living in the wider community.  As a result, we are educating children in the importance of adhering to rules in order to enable all people to live together in peace.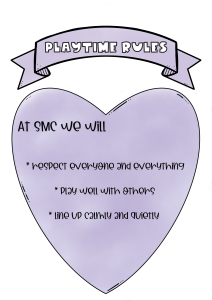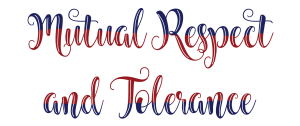 'The need of the moment is not one religion, but mutual respect and tolerance of the devotees of different religions.' 
Our faith life is at the centre of everything we do at SMC, it is the core of our curriculum and gives us our identity as a catholic school.  However, we understand the vital importance that all children are exposed to other faiths, religions and beliefs that may be different to ours.  We endeavour to ensure all of our children are respectful and tolerant of everyone around them regardless of race, colour or creed.  We created a whole school display as part of our British Values learning that shows we are individual and unique but we are also united as one.  We used red, white and blue, the colours of our country, and created an individual piece of art work that we then pieced together. This is a daily reminder for our children of the importance of respect and tolerance for ourselves and others and that no matter where we come from or what we believe we are united. 
 Another way we teach mutual respect and tolerance is by having a termly 'Other Faiths Day' where our children have the time to explore other religions and discuss similarities and differences with ours.  We celebrate who we are, what we believe and know that in God's eyes we are all equal.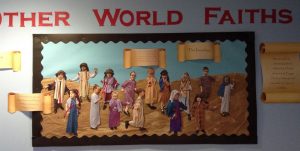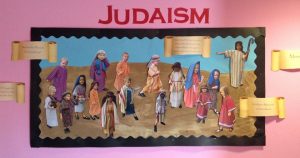 British Values is part of every day life at SMC.  We are proud of the provision we provide for our children and have worked hard to develop a curriculum that is ambitious and accessible for all.  We actively promote a positive attitude towards each value and embed them in our weekly learning.  We strive to ensure our delivery of British Values prepares our children for life in modern Britain and equips them to be responsible, respectful, active citizens who contribute positively to society.  
Our British Values Policy can be found in our policies section.