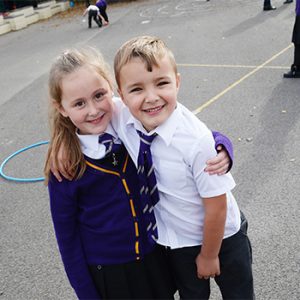 On behalf of the pupils, staff and governors I would like to warmly welcome you to St Margaret Clitherow's Catholic Primary School.
Saint Margaret Clitherow's School is a family.  We are a very large, happy, diverse and united family – we are strong because of our differences and because of the way that we successfully work together. 
We believe that the 'special feel' at St Margaret Clitherow's School comes from our caring, supportive and friendly environment.  We love the children entrusted to us and take great pride in nurturing their academic, social and personal skills.  We want our children to feel valued and an important member of our school family and wider community or as one ex-pupil perfectly articulated it, 'Everyone is somebody at St Margaret Clitherow's School'.  
We are very proud of our strong Catholic ethos, standards and pastoral care, nurturing our young people as they continue on their faith journeys.  At the heart of St Margaret Clitherow's is a clear commitment to Catholic values: the education that the pupils receive has the Gospel values at its core and we wholly embrace our school motto of 'Jesus is at the heart of everything we do'.
Pupils recognise the 'loving' Catholic ethos within the school is created through following in Jesus' footsteps'. They fully participate in promoting the school's mission through respecting all as equals, supporting others in the school and beyond and becoming SMC – 'sensible, mature and caring'.
Section 48 Inspection July 2019 – Graded Outstanding 
St Margaret Clitherow's Primary is a school where individuals are helped to achieve their personal best.  Children are supported in becoming confident and independent young people, who thrive on challenge, and are motivated to learn.  I am extremely proud to lead a team that is committed to children's well-being, achieving high standards and providing the very best opportunities for all in our care.  Staff, supported by governors, work hard to deliver a rich and challenging curriculum; to prepare children for future education; and to help them acquire the skills and enthusiasm needed to embrace the opportunities, responsibilities and experiences of later life. 
We want our pupils to have excellent aspirations for themselves and pitch their aims high.  We strive for pupils to have complete faith in their futures as the next generation of professionals but we also ensure that they have a secure understanding of the link between school learning, working hard and the impact this will have on a successful future.    
We are passionate about making a difference to the life chances of the children of St Margaret Clitherow's School and we feel very privileged and proud to serve such a wonderful community.
If you wish to find out more about our school, we encourage you to come and visit, to see us in action and meet staff and children. A call to the school office on 01642 835370 is all that is needed to arrange this.
We look forward to welcoming you to our school and to a happy and successful partnership with every member of our school family.
Miss McNicholas
Headteacher