What is the Sport Premium?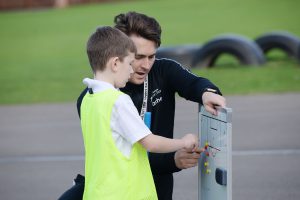 Sport plays such an important role in school life. From keeping fit to learning new skills to taking part in competitions! All of the children at St Margaret Clitherow's are given the opportunity to learn new sports and challenge themselves in different ways.
Schools are given money by the government specifically to enhance the provision of PE and they can choose how they use this additional funding, for example to: hire specialist PE teachers or qualified sports coaches to work with primary teachers during PE lessons. At SMC we use the money in many different ways e.g.
provide resources and training courses in PE and sport for teachers
run sport competitions or increase pupils' participation in the School Games
run sports activities with other schools
Accountability
Since September 2013, Ofsted inspections report on PE and sport provision and on how schools spend their additional funding. They also hold schools accountable by requiring them to publish by April 2014, on their websites, details of how they spend (or will spend) their PE and sport grant. They must also include detail about the impact this funding has on pupils' PE and sport participation.
Please click on the link below to see the Sports Grant:

Swimming Data for Year 6 2020/2021
39 children in total
Could swim 25 metres at end of Y6 ~ 33/39 achieved their 25 metres, 85%
Had been taught water safety sessions ~ 29/39 received water safety sessions, 74%
Can perform basic strokes – breaststroke/backstroke and front crawl ~ 33/39 could perform the three basic strokes, 85%